Dear college me,
Remember high school freshman orientation when your principal said, "These are the best four years of your life"? He was clearly wrong. The best four years of your life are your college years.
I speak from a place far, far away—I come from the future. Great Scott!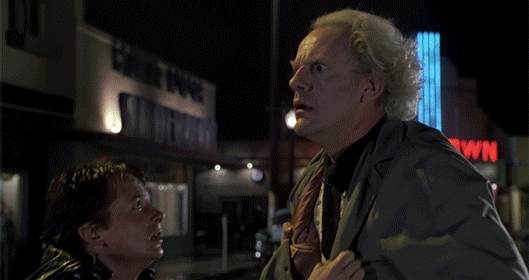 Go figure, I just had to throw in a Back to the Future reference.). But since future me has been in the "real world" for a few years now, I can say from experience that so far, the college years were some of the best years of my life.
Sure, I know right now you're probably reading this while procrastinating on a paper you should be writing for Honors, or Spanish, or Creative Nonfiction…or maybe all three. Right now you're probably panicking about how busy you are, how there never seems like there's enough time in the day to get all these papers done. You wish that the coffee shop on campus was open 24 hours (and just an FYI: you will miss those delicious coffees more than you can even imagine).
I'm probably being a bad influence right now, but keep procrastinating for a little longer and let me school you with some knowledge. Just kidding. But I do want to fill you in on what I wish I would have known during college:
1. It's okay to stress out. What you're doing right now? It's normal. You're a college student. You are an Honors student. You're double-majoring. You're writing for the college newspaper. You have a lot on your mind, and that's perfectly okay. Taking steps to reduce stress, as long as it's healthy, is always a good idea. It'll be a few years before you heed my advice, but let me just tell you now: Yoga does wonders. Honestly. You'll thank me later.
2. Enjoy the adventures. Throughout your college years, you will have opportunities to travel to new places around the country, and for the first time, you'll finally set foot outside the United States, traveling to Greece.
Trust me: Right now, that will be the opportunity of a lifetime, and it will forever be one of the most beautiful places you've ever seen. Take it all in, take tons of photos, breathe, close your eyes, and appreciate the beauty of the world around you. You'll remember these moments for years to come.
3. Life post-college is just as confusing/stressful/complicated/weird as college life is. No, even in your mid-20s, you still won't have life "figured out." Will we ever have it figured out? Who knows. But what I do know is that life will take you to places you never thought you'd end up (like New Jersey and New York City).
Your life will probably always be unpredictable, but isn't that what makes life thrilling?
4. As a millennial, you and millions of other college grads around the country will deal with paying back student loans. 20-somethings everywhere are in the same boat as you are, so you don't need to feel alone. Even though the idea of student debt is daunting, places like Earnest exist to help students refinance your loans. They also help students understand finances better, which is obviously important for all of us. Adulting outside of college is tricky, but finding the right resources to help you will only help you out in the long run, so no worries.
5. There is no timeline for chasing after your dreams. You may compare yourself to others around you, and in case you were wondering, you'll compare yourself even more once you're out of college, unfortunately. Social media plays into it because we only post what we want others to see. You'll see people living lives that you're slightly jealous of. You'll wonder what you're doing wrong. The answer: Nothing. You're walking along the path that's right for you. You're taking steps towards where you want to be physically, mentally, and emotionally. Just know that comparing yourself to others is natural, but the path you are on is uniquely yours.
6. You are capable. I know you, and I know that voice of insecurity. Even if you don't believe me right now, just know that you are capable of success, in whichever way that may be. You are capable of finding peace. You are capable of finding day-to-day happiness. You are capable of finding security—security in your identity, in your present life, in your future. Just know that right now where I am in life, I am on that journey towards achieving all of those things. Yes, there will be dark times that you may feel you won't emotionally survive. But somehow, you will. The journey only continues, and you will walk on.
7. It's okay to love yourself. Your college years will be the most inspiring years of your life (at least they have been so far), so please take advantage of these years. Relish in those moments of confidence, inspiration, and self love. Loving yourself isn't vain—loving yourself is crucial to living with yourself. After some rocky years post-college, I know that. I live that. So I just want you to love yourself and be proud of it.
I'm sure right now it's nearly midnight, so you should probably get back to the papers you're procrastinating on. I know you might be a little bundle of nerves, but honestly, I think that's just a part of the college experience. To be honest, I'm slightly jealous of you. Life outside of college is another world entirely, and even though I don't miss the stress of college, I miss the atmosphere. So breathe it in, write in one of those fancy journals until your hand cramps up, drink too much coffee, and always say yes to movie nights with your friends down the hall. You'll never, ever regret it. Just know that I love you. I always have, and I always will.
Love,
Future Me